Upcoming Events.
We'r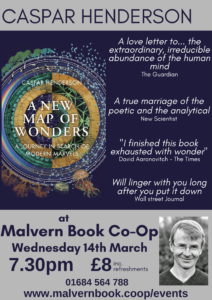 e very excited to be welcoming award winning science writer Caspar Henderson next Wednesday (14th March). He'll be here to tell us about some of the marvels from his latest book A New Map of Wonders , just as this fantastic & mind blowing book is released in paperback. Drawing on philosophy and natural history, art and religion, neuroscience and nanotechnology, A New Map of Wonders is a celebration of life — a rich and inspiring guide, encouraging us to see the world anew.
Tickets available from the shop, Malvern Tourist Information Centre and online here
Would you like to be a member of the Malvern Book Cooperative?
One of the strengths of our business is the fact that it is wholly owned by our members. Every member has an equal say in the strategic decisions we make. They get to elect the management board and to stand for election if they wish.
The members we have at the moment are all people who bought shares when we set the shop up 5 years ago. They are great. They support us and act as the best marketing campaigners we could hope for. At this year's AGM they decided that we ought to allow new members to join the Cooperative. Not to raise money – we don't need additional finance at the moment – but to join our community and bring new ideas and energy.
Interested? Have a look at the details about membership here.