Patricia Marsh: The Scribe of the Soul. 
Wednesday 9th May, 7.30pm £5, inc. refreshments.
Tickets available from the shop or online here.
Love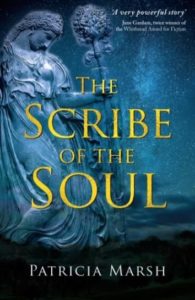 and loss, slaughter and destruction, Great Goddess rites – this is the story of Herpyllis, whose life is shaped and marked by two famous men who are still household names: Alexander the Great and Aristotle. It is the first historical novel to look at that period of constant turmoil in Ancient Macedonia and Greece through a woman's eyes.
"A very powerful story – a mixture of love, savagery, sex and a homage to wisdom and learning"
Jane Gardam, twice winner of the Whitbread Award for Fiction
"Conjuring up a wealth of vivid detail from the time of Alexander the Great, Patricia Marsh awakens the distant past with this inspiring story of a woman we can recognise only too readily today: an orphaned refugee fleeing death and destruction. This is a compelling book from a talented new writer, who has skilfully created a fascinating picture of women living a secret life amid a merciless and repressive patriarchy."
Little, Brown author Julie Wassmer
For more information go to http://patmarshis.wixsite.com/patriciamarsh-author